what's in your easter ham?
most holiday hams…
HAVE HIGH FRUCTOSE CORN SYRUP
ARE INHUMANELY RAISED IN GESTATION CRATES
ARE INJECTED WITH ANTI-BIOTICS & GROWTH HORMONES
SIMPLY FRESH'S / BEELER'S HEALTHY HAMS….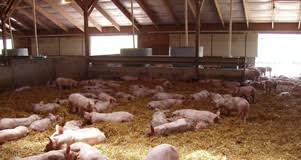 FROM SMALL FAMILY FARMERS WHO CARE
Abby Beeler on the farm with the pigs
Many popular Ham Brands will sell you a Ham that has been sitting in the freezer for 1-3 years!
Our Hams are Truly FRESH….NEVER FROZEN.
UNCURED | SMOKED (FULLY COOKED) | SPIRAL SLICED | BONE-IN
Reserve YOUR HEALTHY EASTER Ham TODAY!
WE ONLY HAVE 100. THEY SELL OUT EVERY YEAR.
RESERVER YOURS NOW:
ONLINE (BELOW),

IN-STORE.
Half Bone-in Spiral Cut (5-8/lbs)
Whole Bone-in Spiral Cut (10-16/lbs)
Ham is $6.99/lb. Final amount due at pick-up. All Hams will be available for pick-up April 19th at Simply Fresh Market
*These products are reservations, deposits are not refundable.